Suprime-Cam Filter System
This page describes the Suprime-Cam filters, and the transformations between the Pan-STARRS photometric system and Suprime-Cam.
The transformations were done using (g-i)Pan-STARRS as the reference colour. The Pan-STARRS filter nearest the centre wavelength of the filter was used as the reference magnitude. The transformation was expressed as a 3rd order polynomial with x being g-i, and y being the difference between the Suprime-Cam magnitude and the reference Pan-STARRS magnitude.
The Transmission Function links point to text versions of each filter. These represent the full response of the system, including the atmosphere, the primary mirror, the Suprime-Cam optics, the filter itself and the CCDs.
In the plots below, the left panel shows the filter curves, together with the relevant Pan-STARRS filter. The black and red curves show the Pan-STARRS g and i filters. The green curve shows the reference filter. The right panel shows the transformation itself. The green and blue dots show the Pickles and CALSPEC/a> stars. The magenta curve shows the fit, also indicated in polynomial form. The vertical lines show the colour range where this transformation is valid. </p>
Johnson-Cousins filters
W-J-B
Transmission Function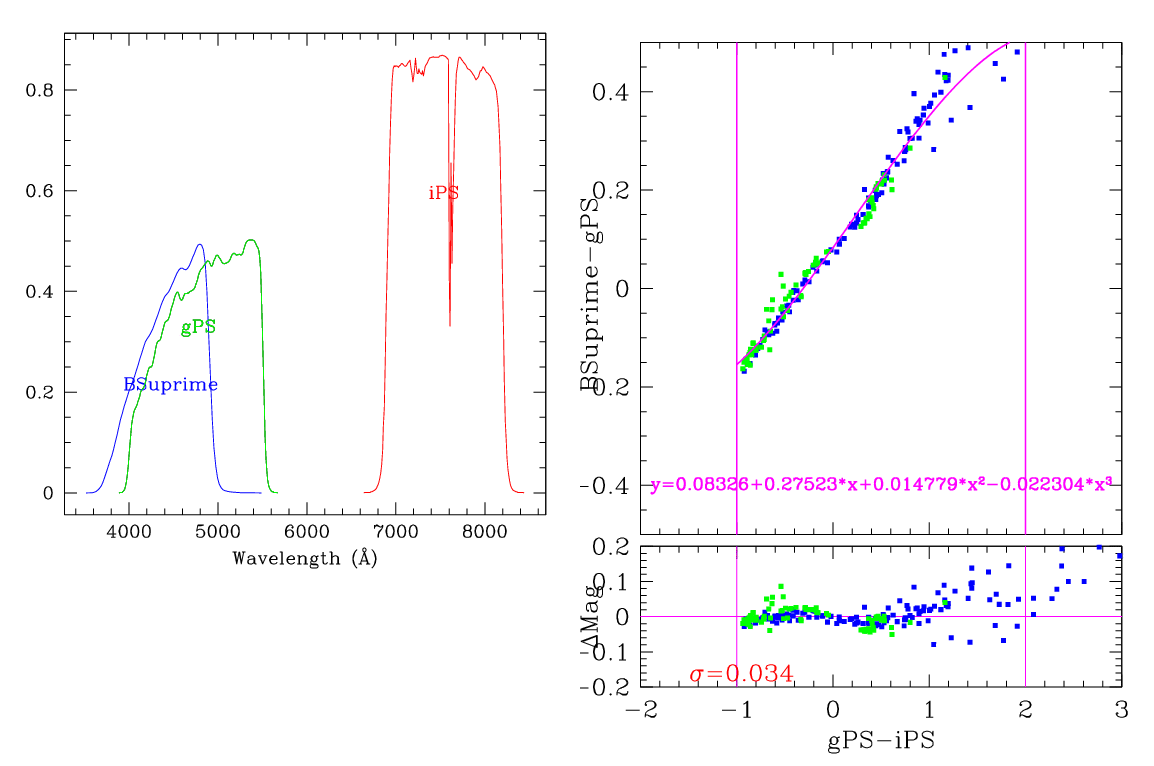 W-J-V
Transmission Function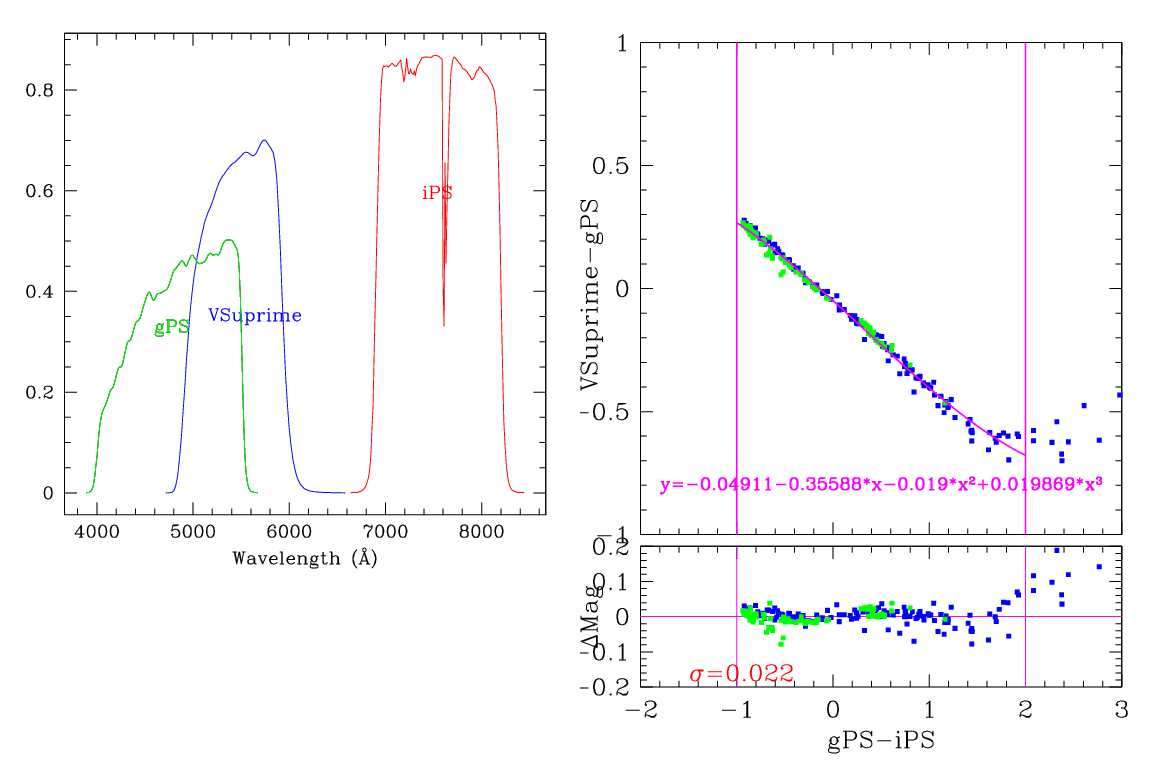 W-C-RC
Transmission Function
W-C-IC
Transmission Function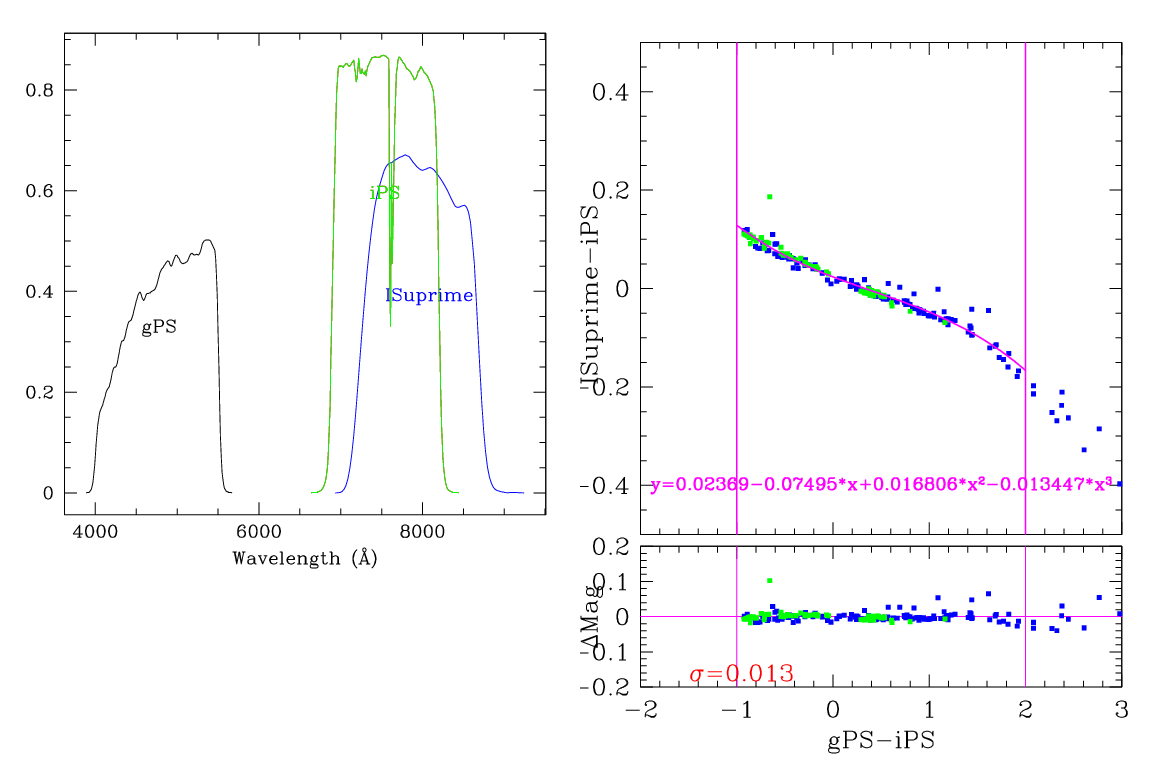 SDSS filters
W-S-G+
Transmission Function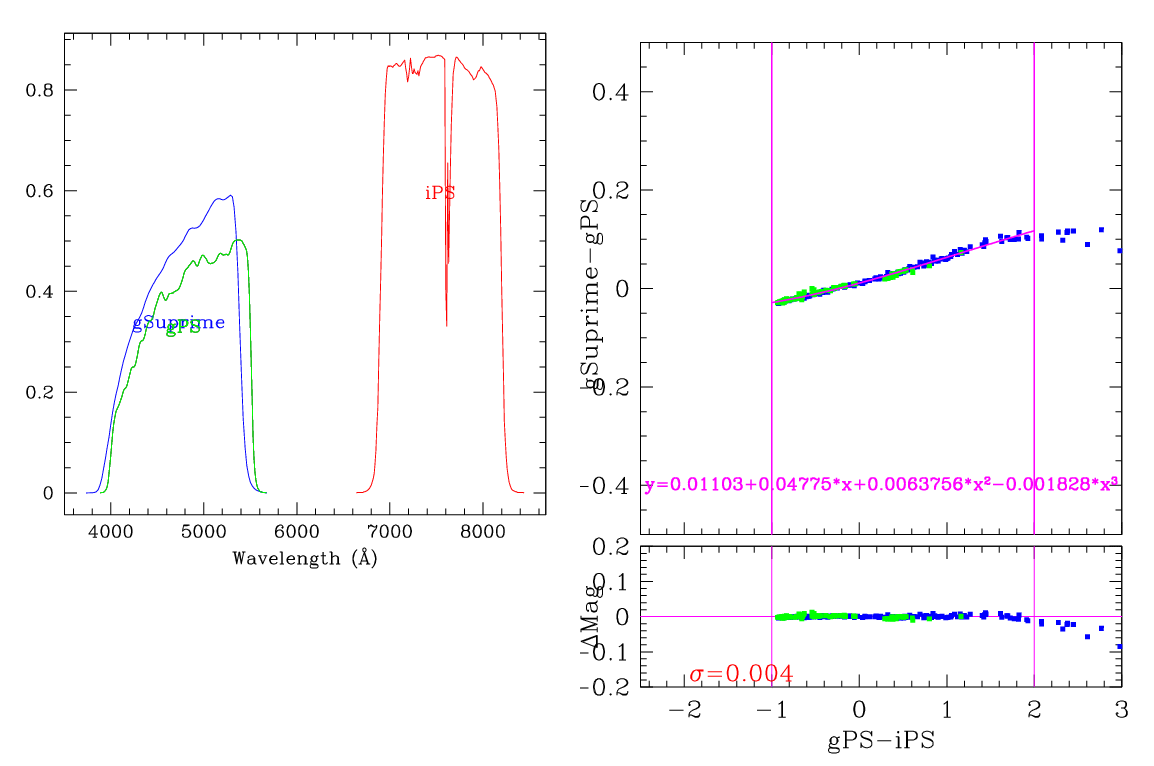 W-S-R+
Transmission Function
W-S-I+
Transmission Function
W-S-Z+
Transmission Function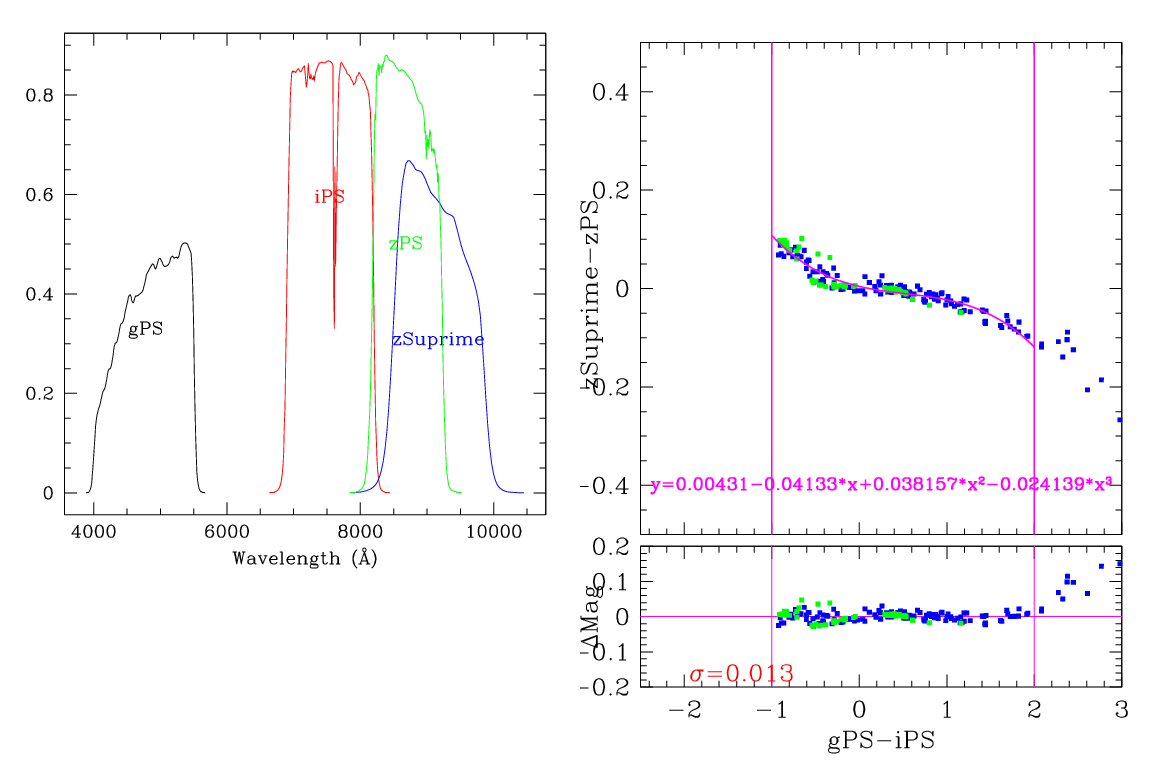 Other filters
W-J-VR
Transmission Function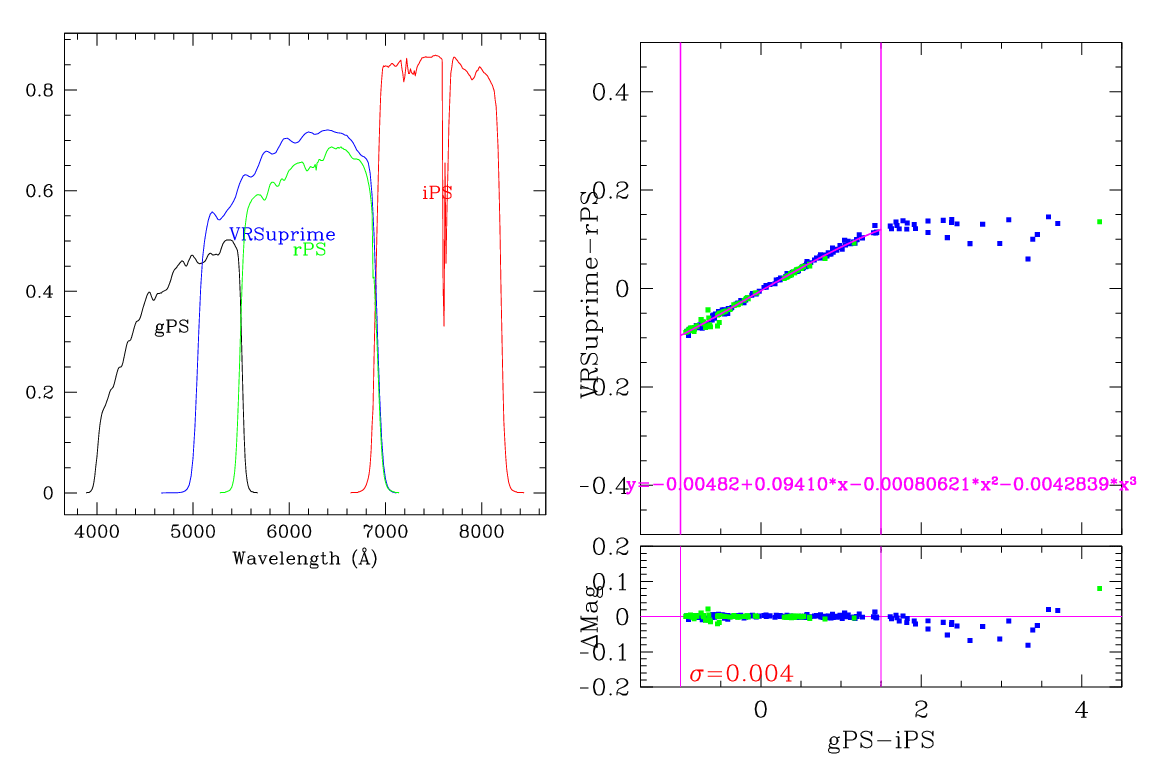 W-A-Y
Transmission Function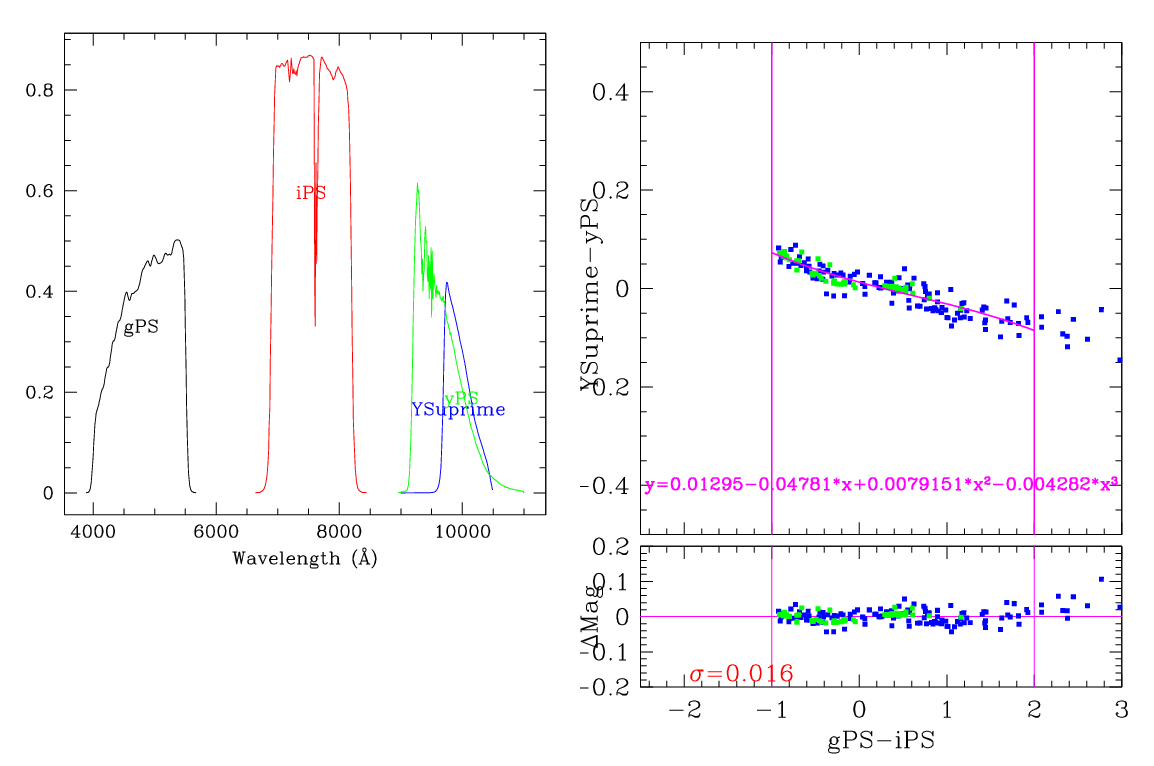 Intermediate band filters
I-A-L427
Transmission Function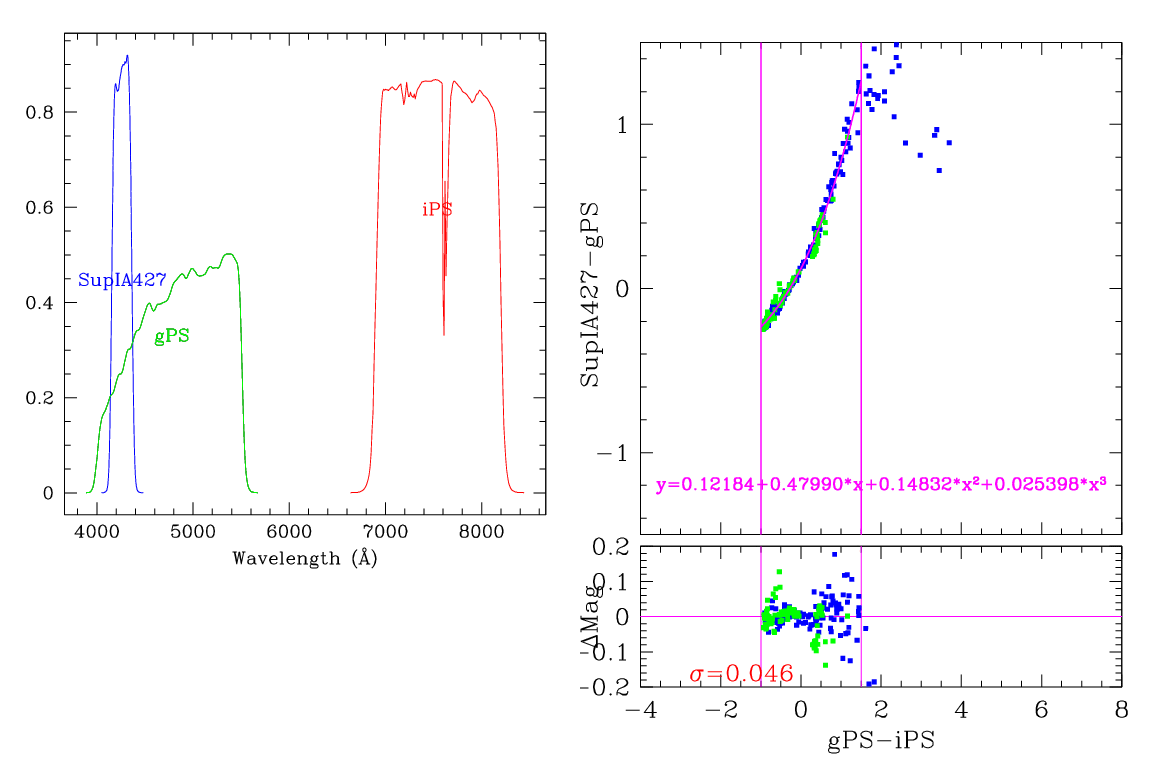 I-A-L445
Transmission Function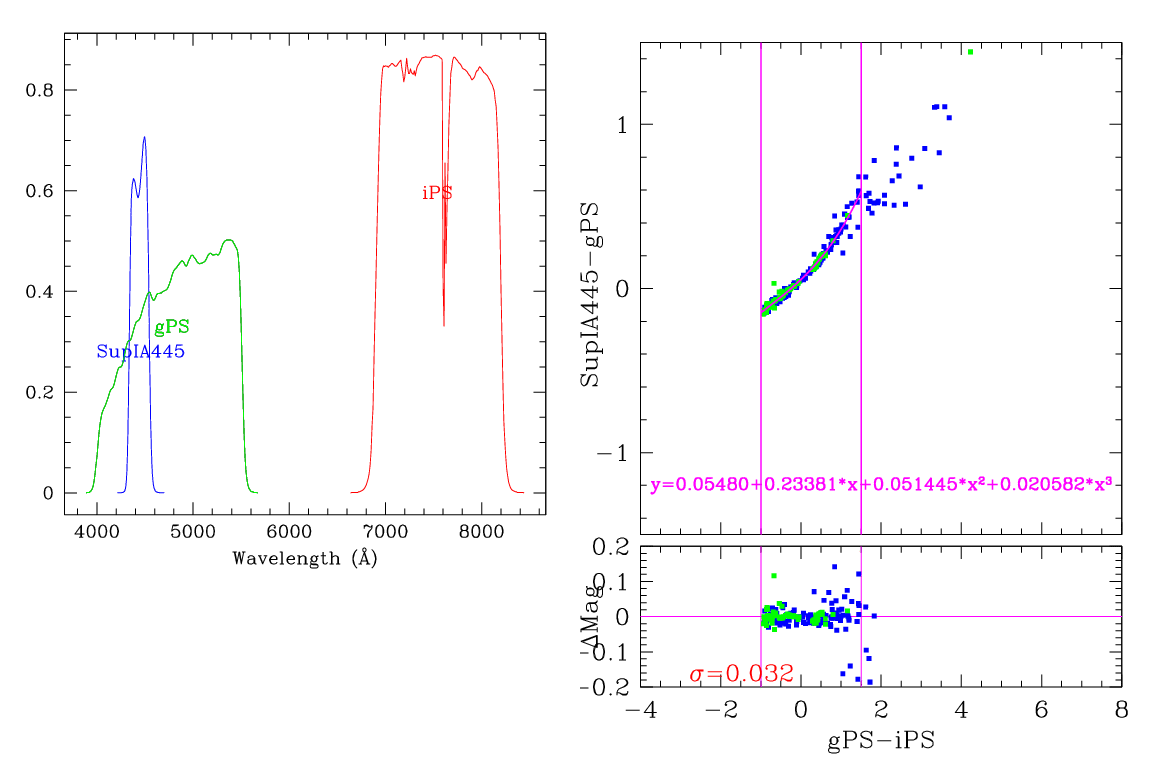 I-A-L464
Transmission Function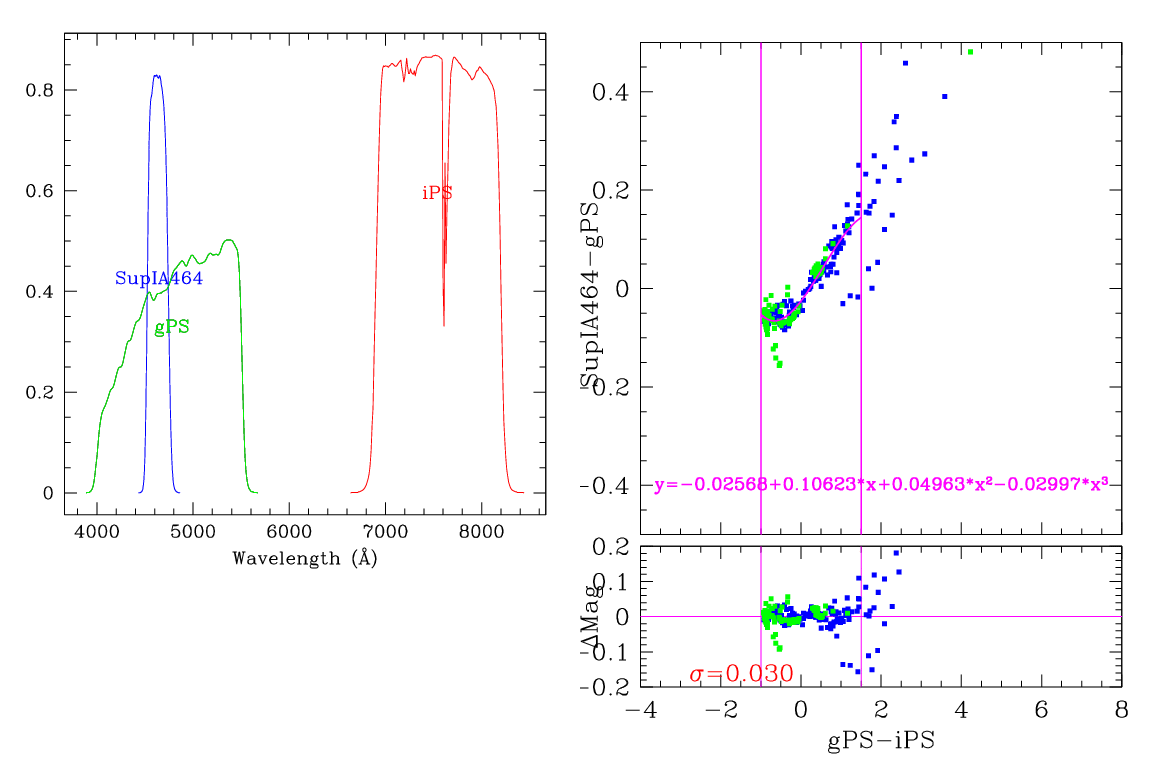 I-A-L484
Transmission Function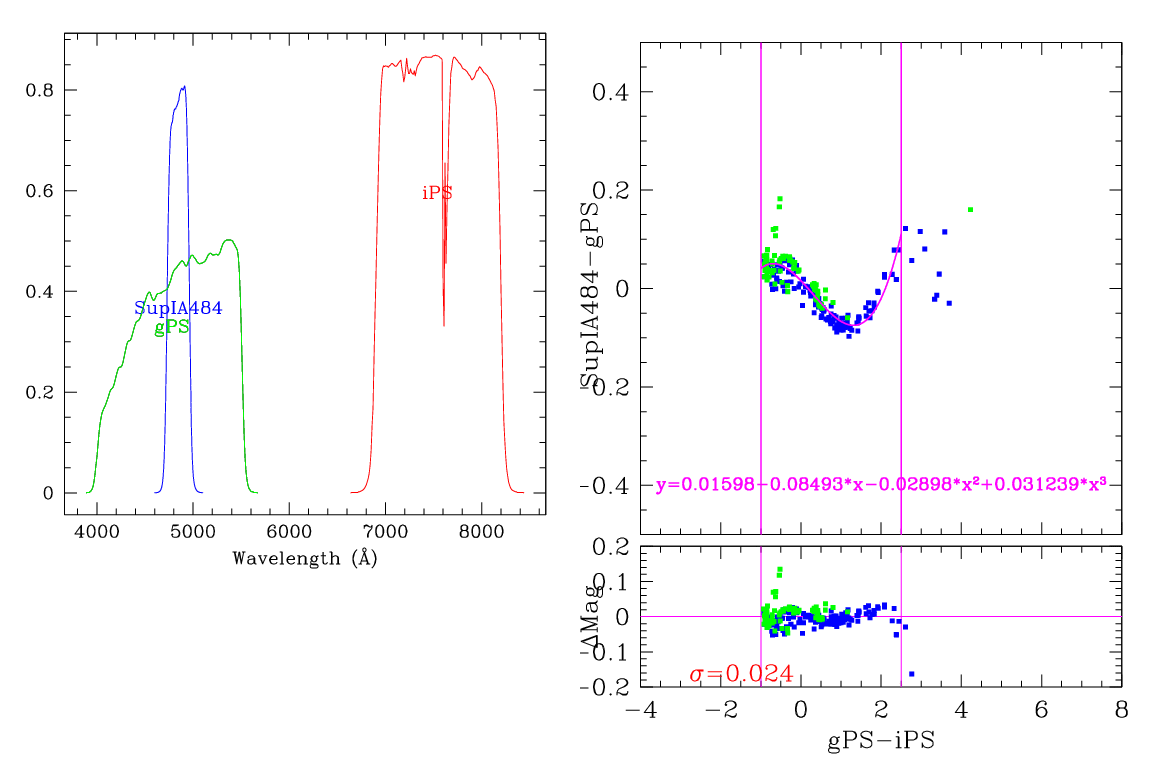 I-A-L505
Transmission Function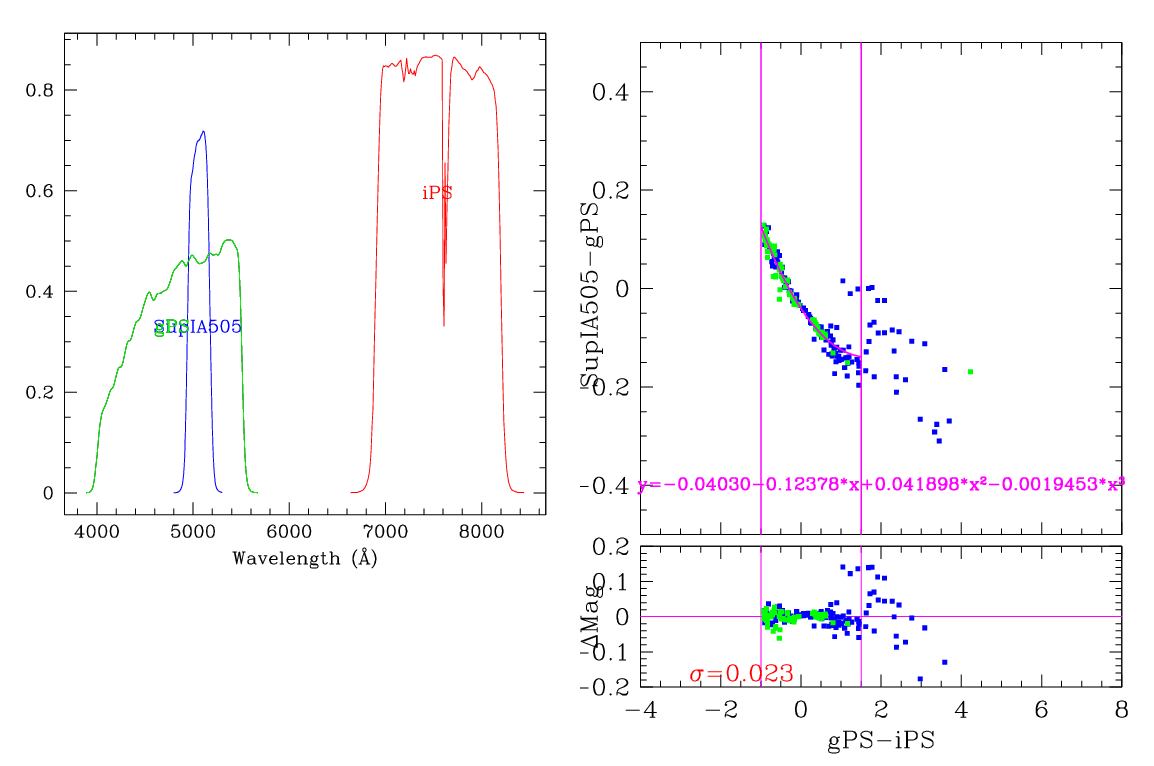 I-A-L527
Transmission Function
I-A-L550
Transmission Function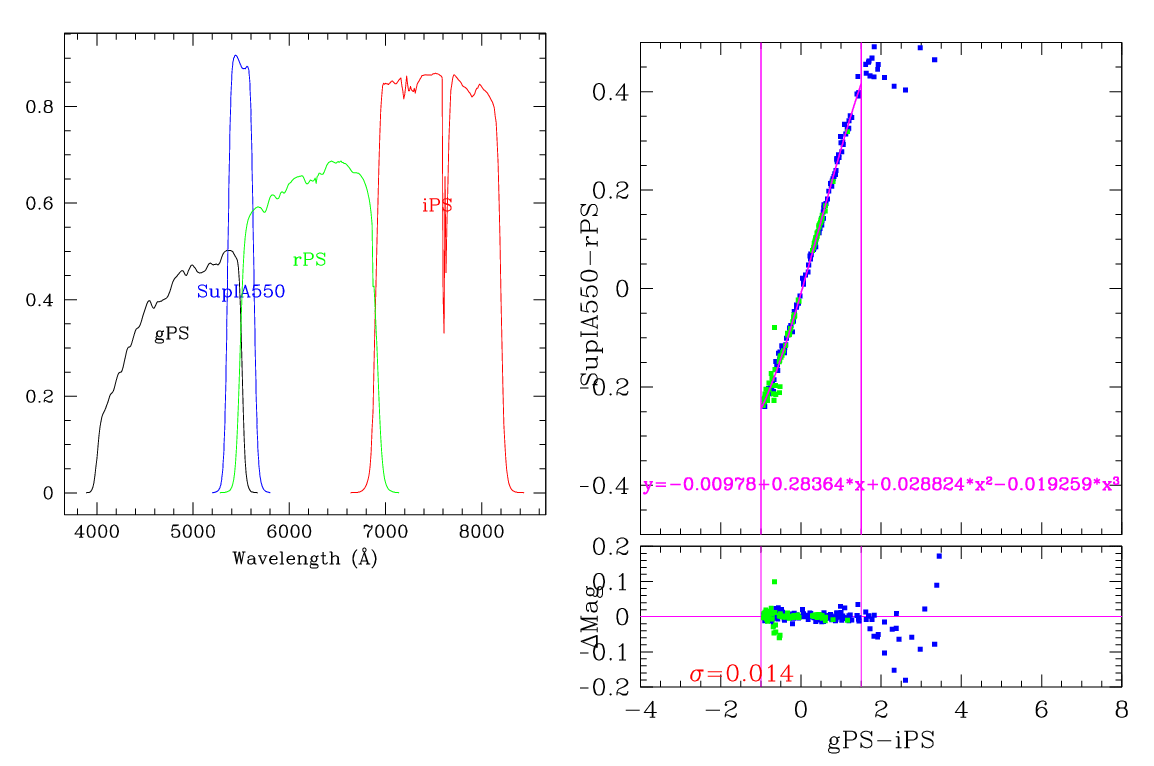 I-A-L574
Transmission Function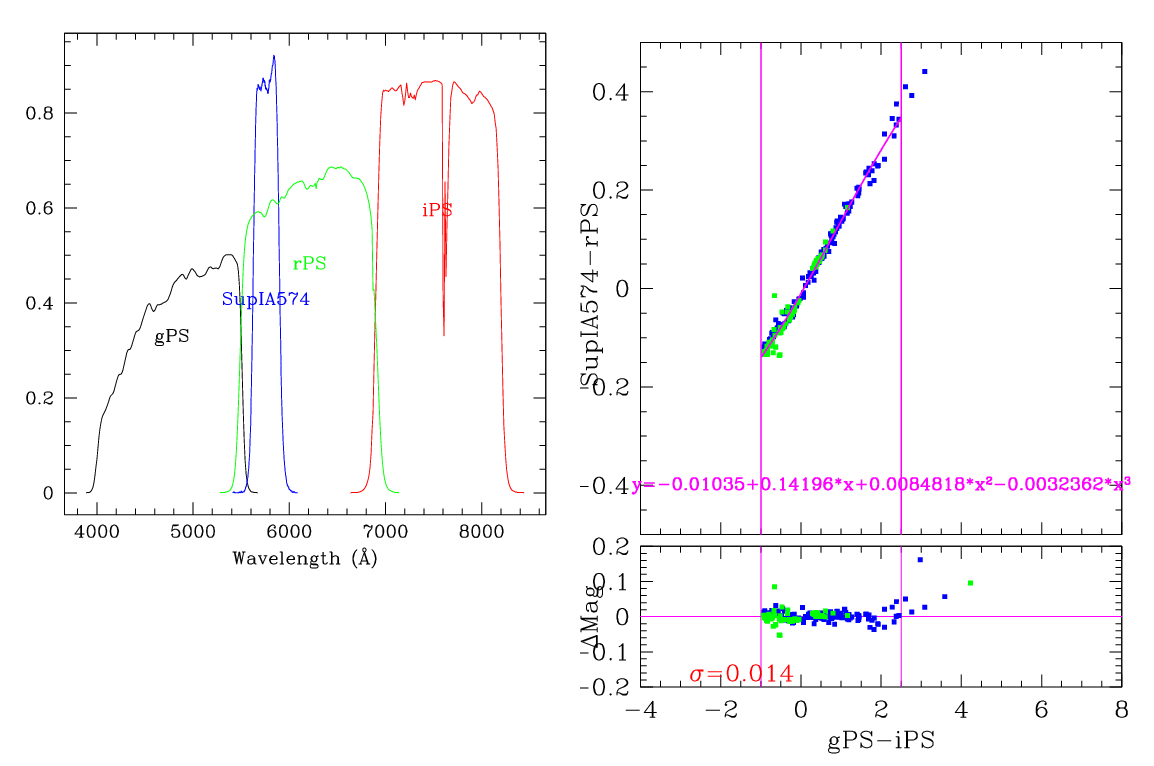 I-A-L598
Transmission Function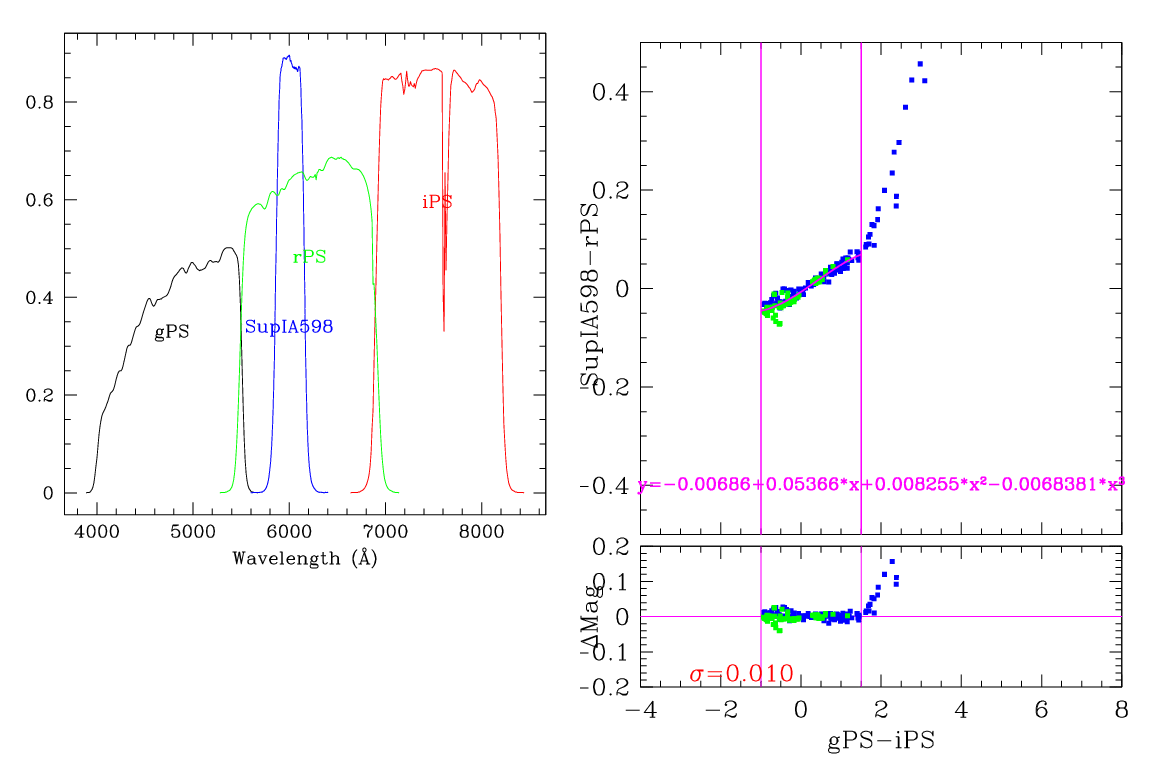 I-A-L624
Transmission Function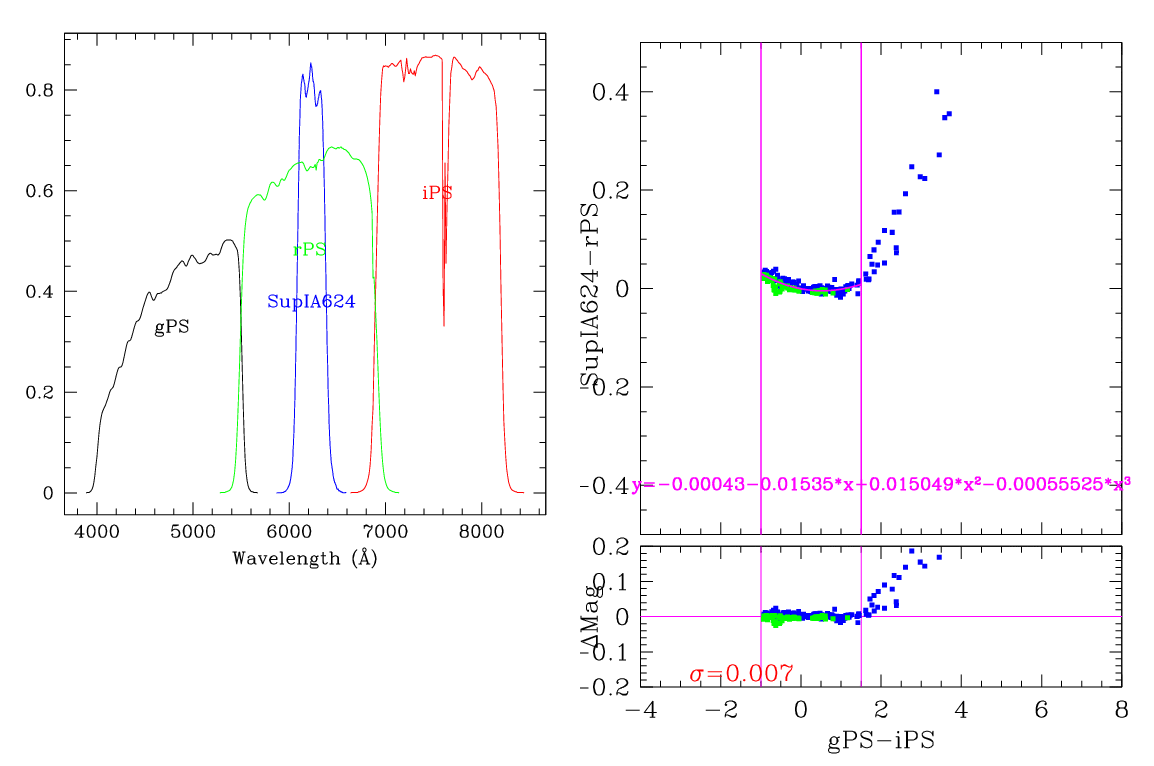 I-A-L651
Transmission Function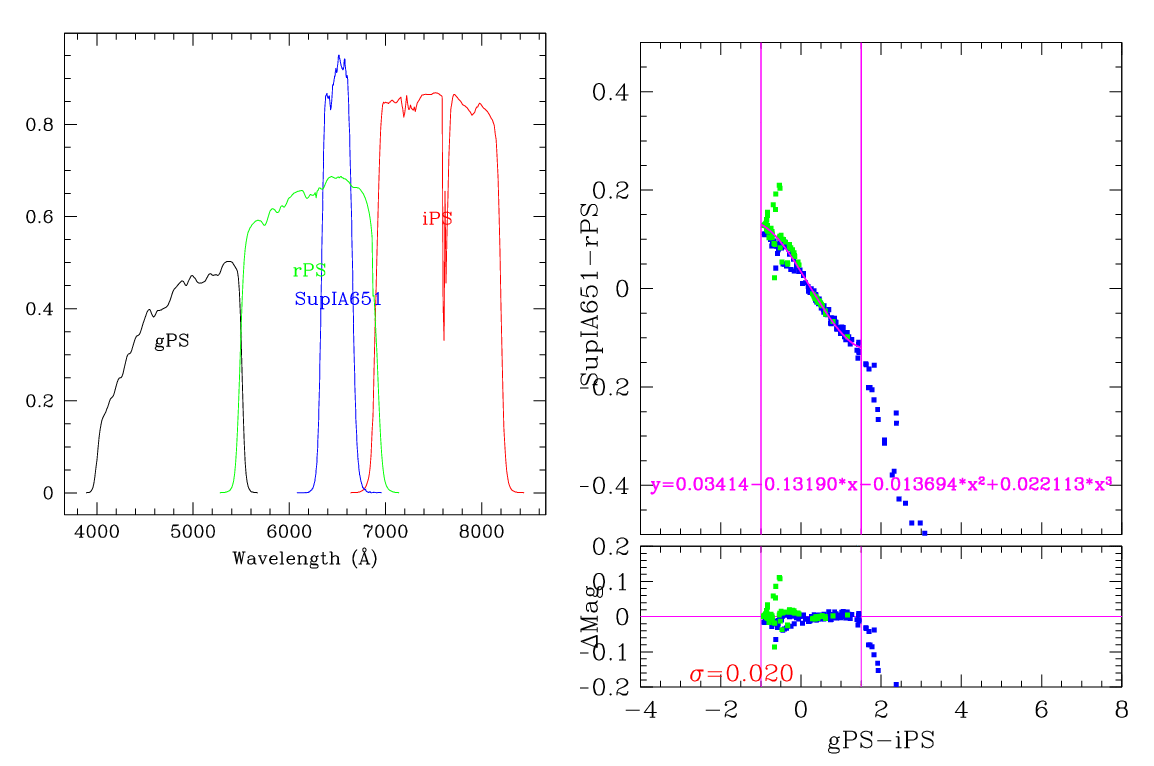 I-A-L679
Transmission Function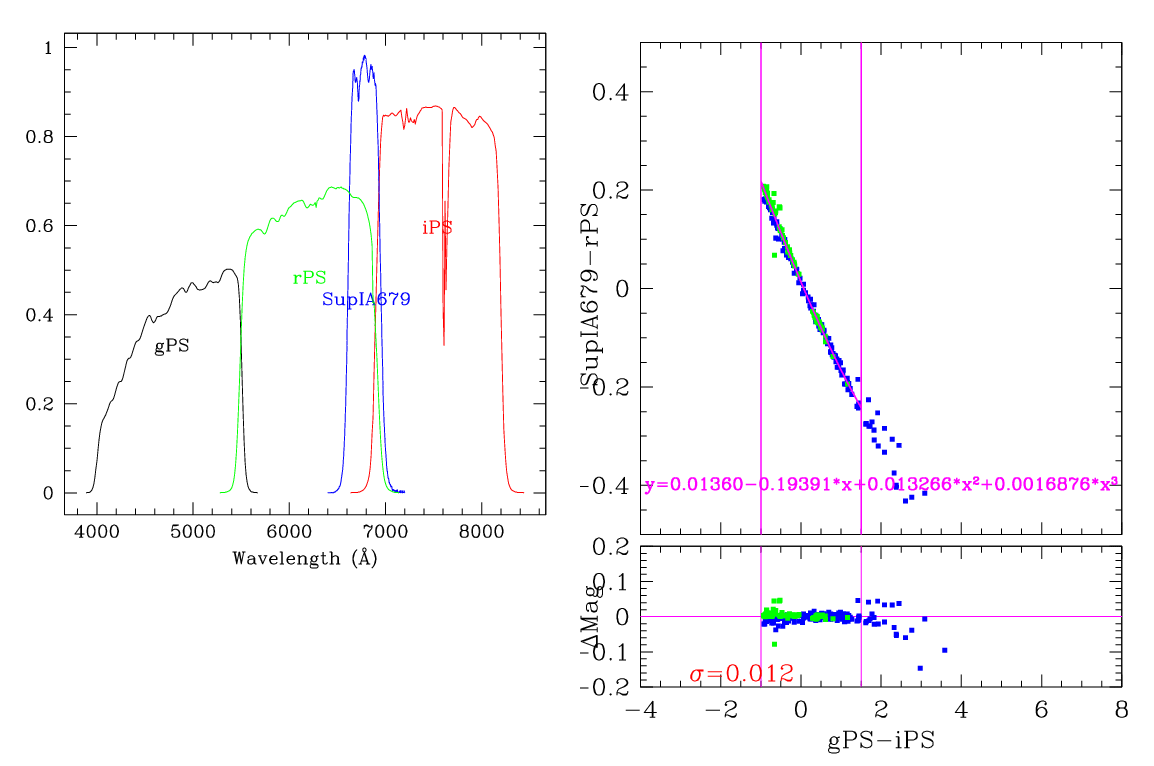 I-A-L709
Transmission Function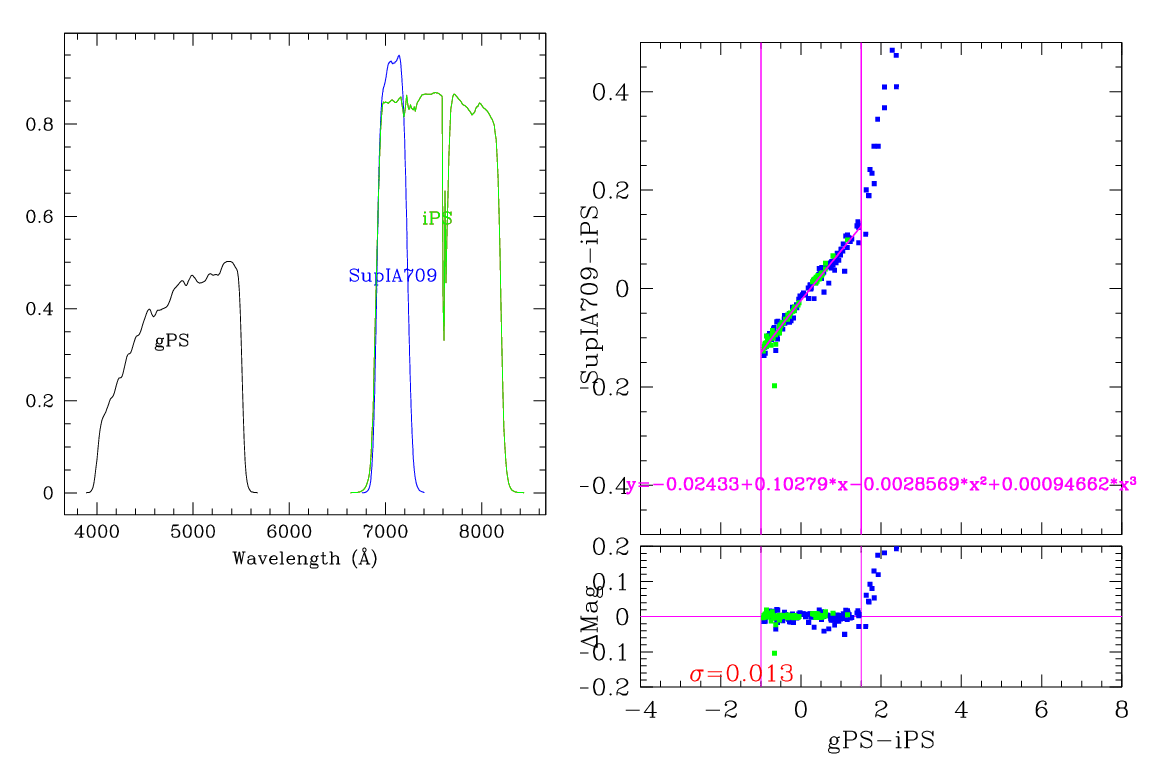 I-A-L738
Transmission Function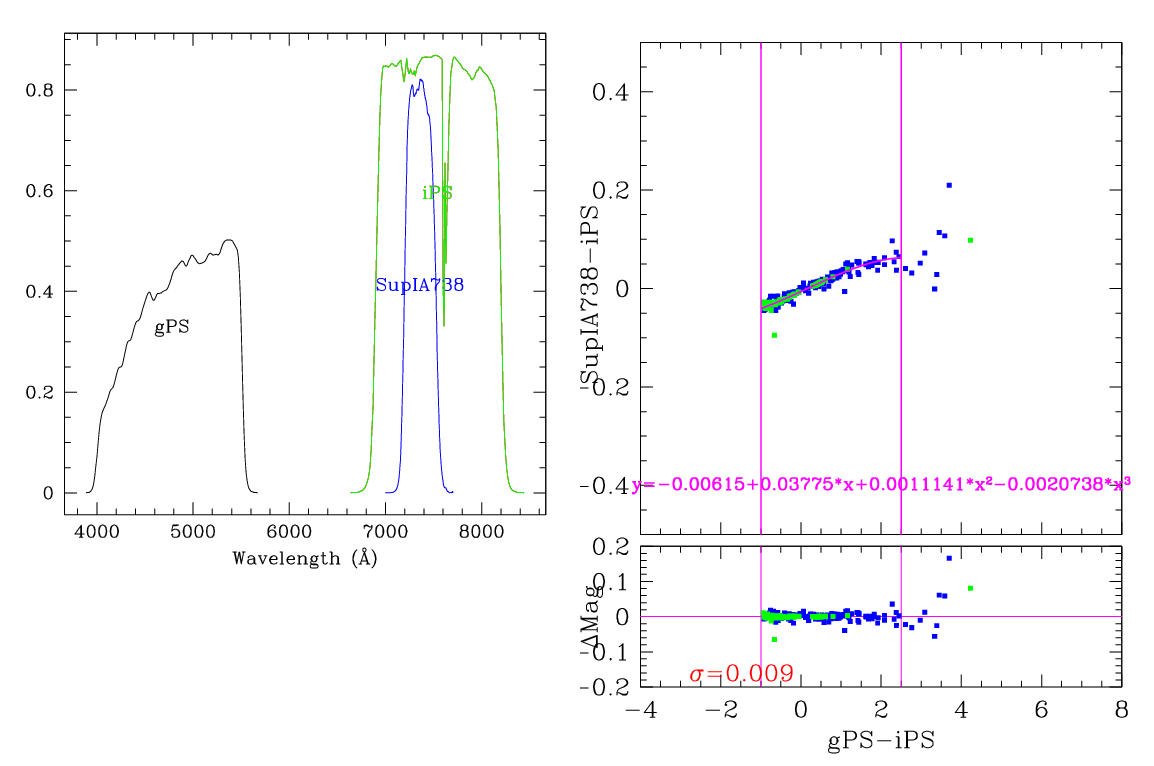 I-A-L767
Transmission Function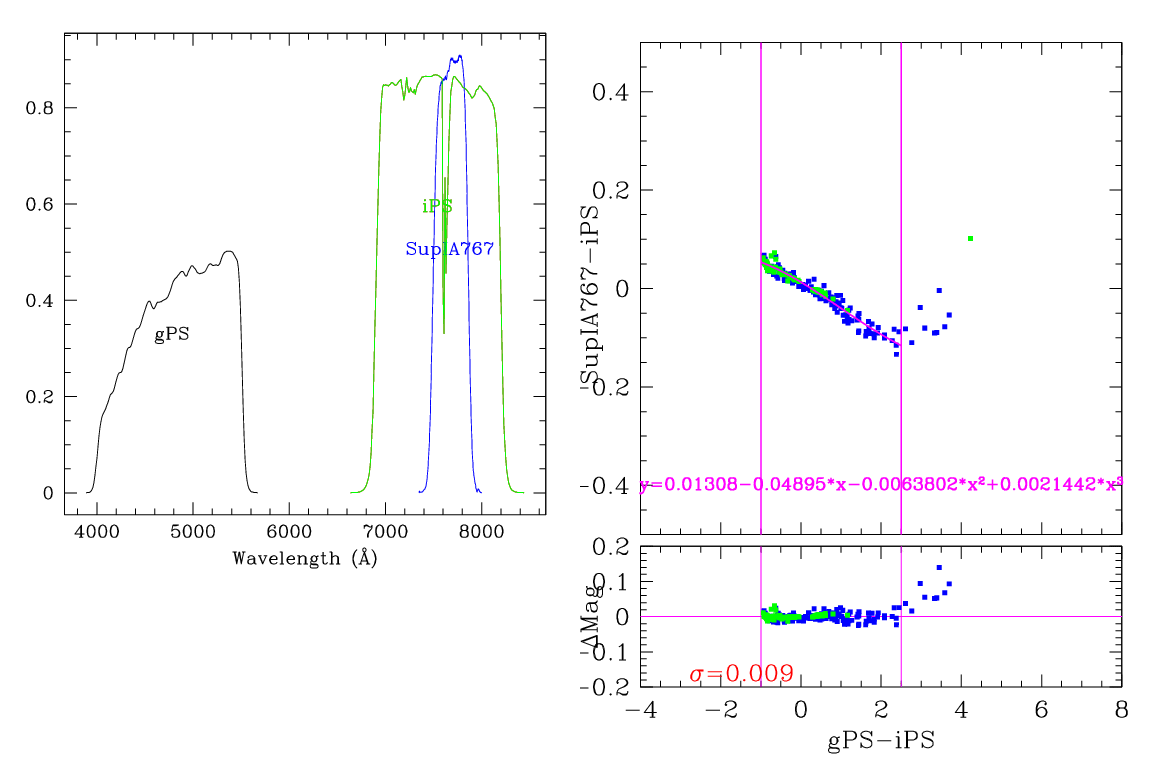 I-A-L797
Transmission Function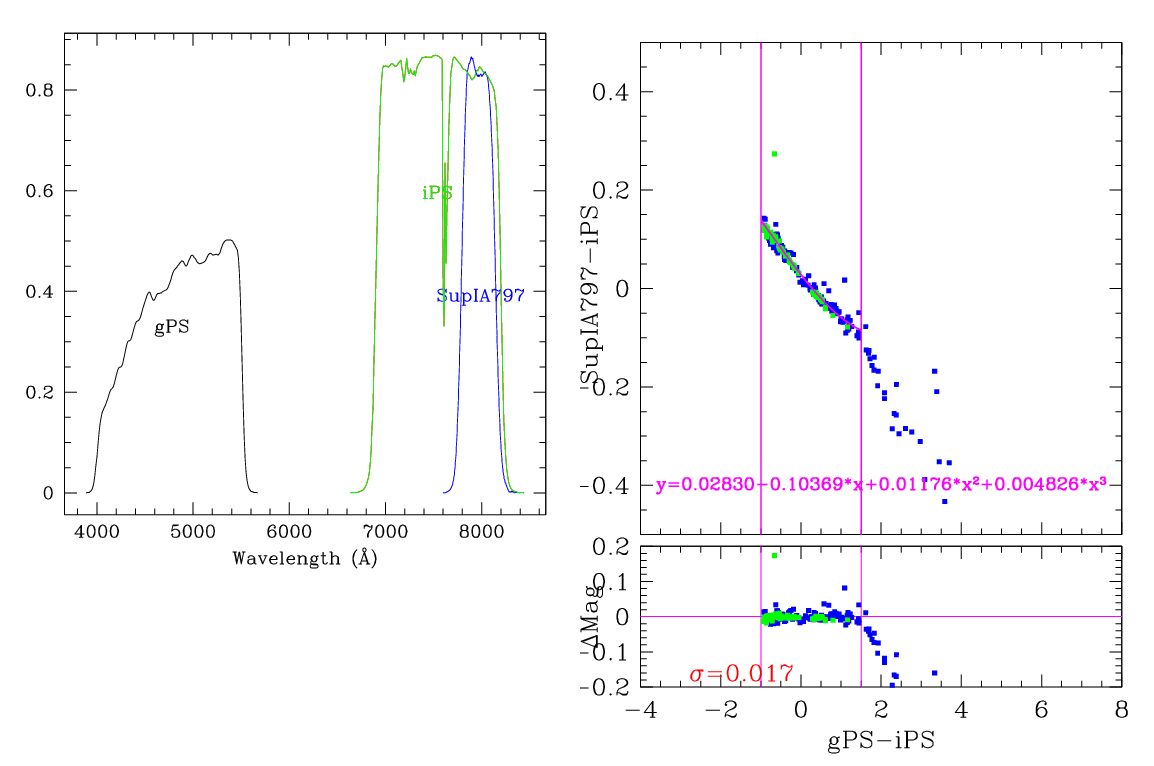 I-A-L827
Transmission Function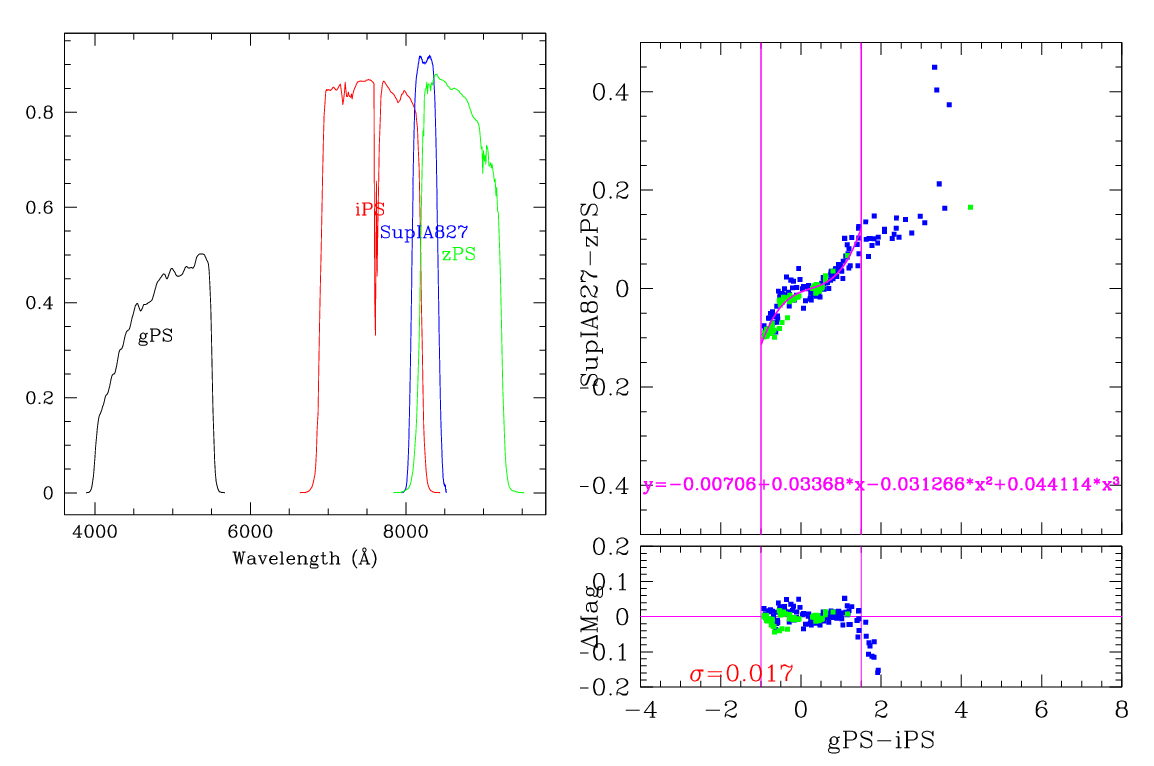 I-A-L856
Transmission Function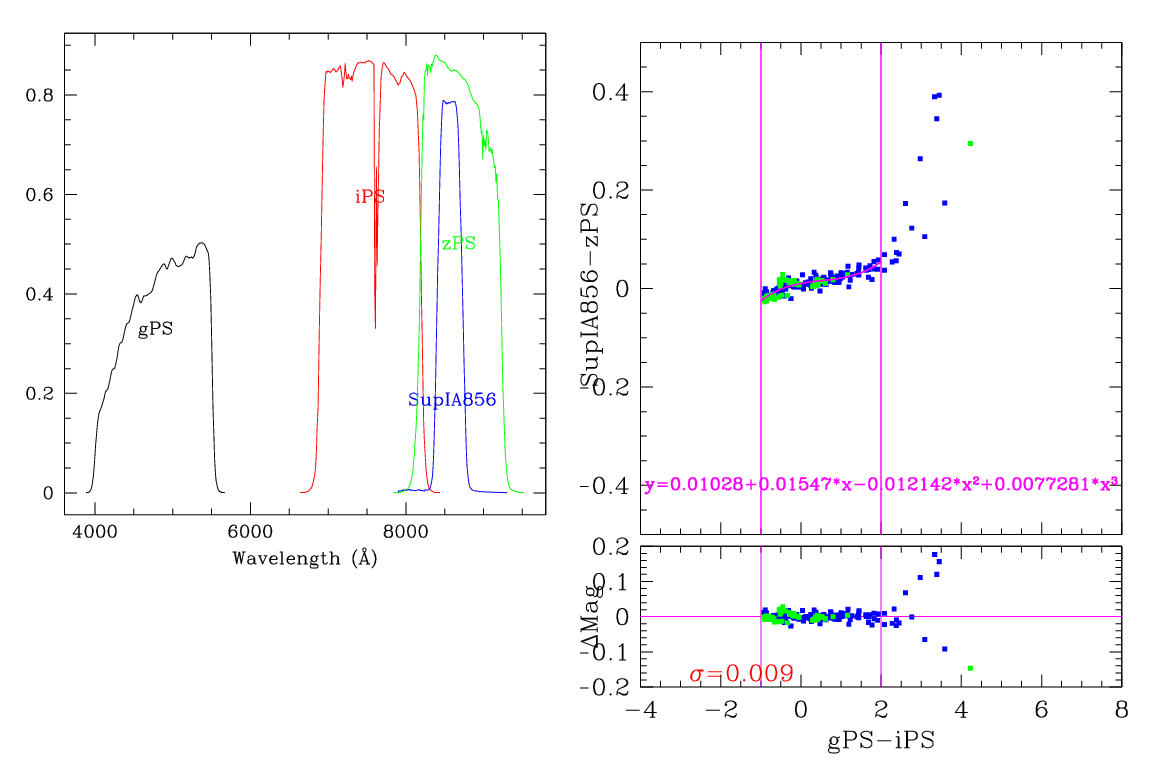 I-A-L907
Transmission Function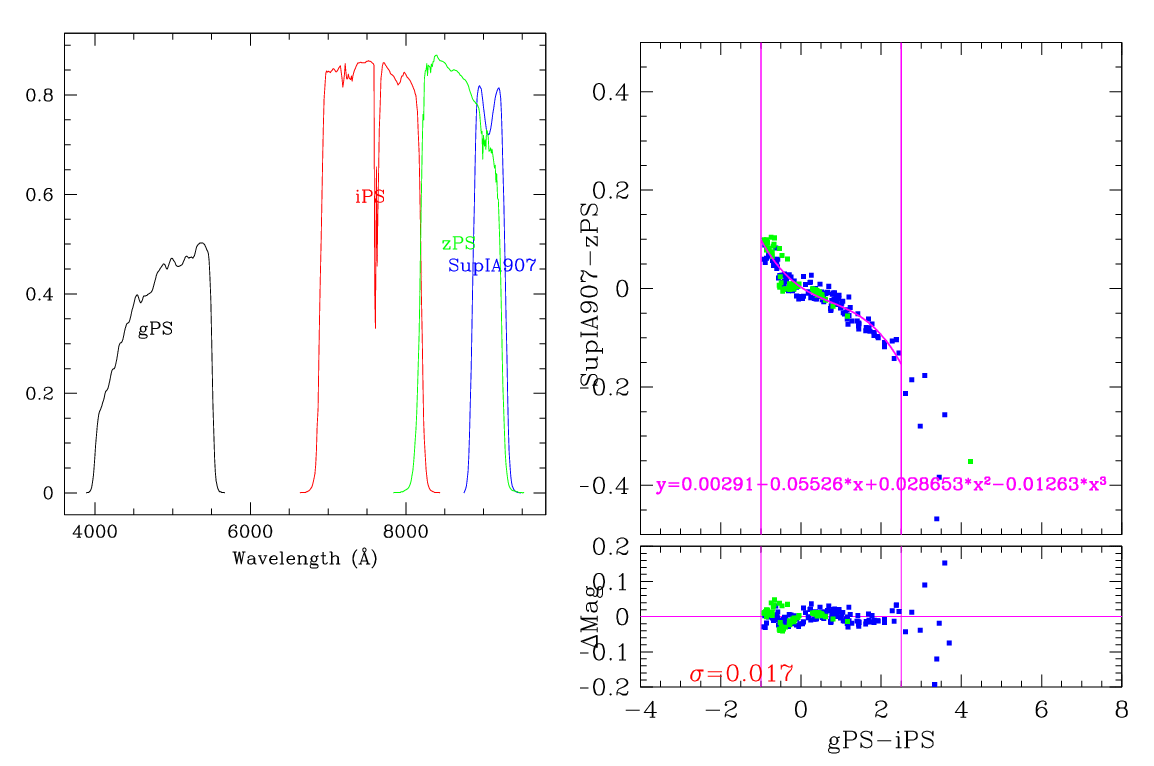 Narrowband filters
N-A-L656
Transmission Function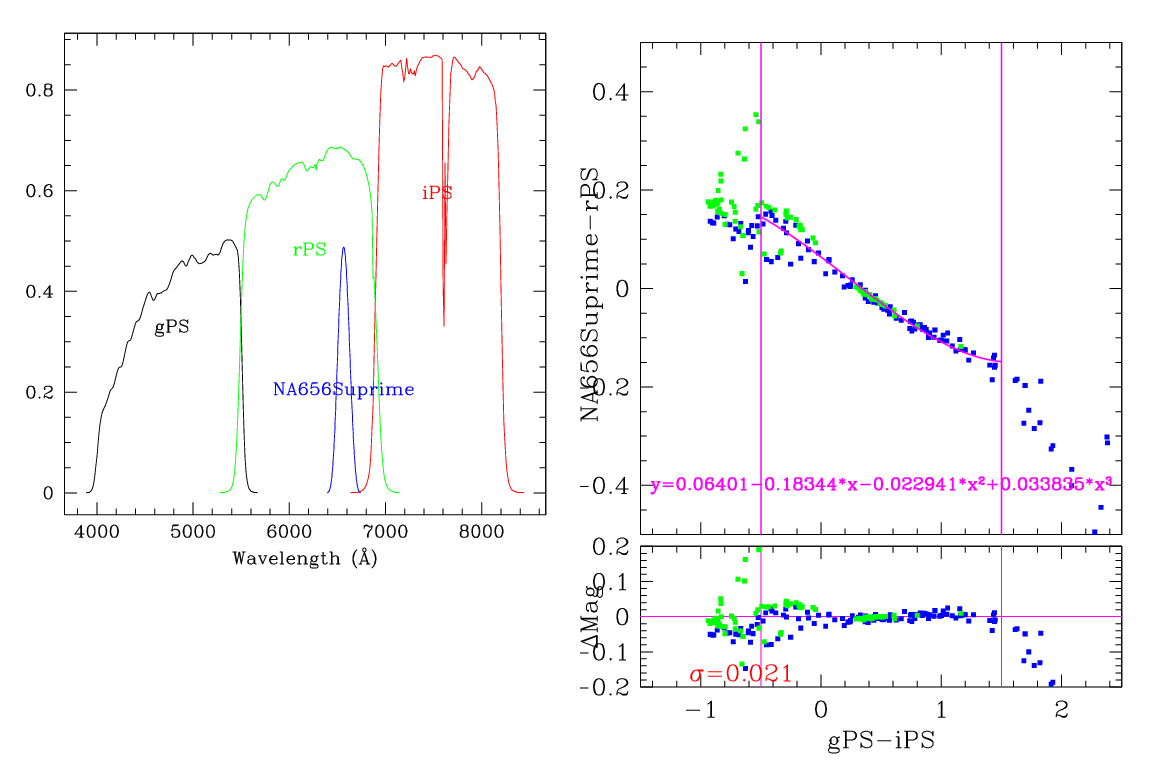 N-B-L711
Transmission Function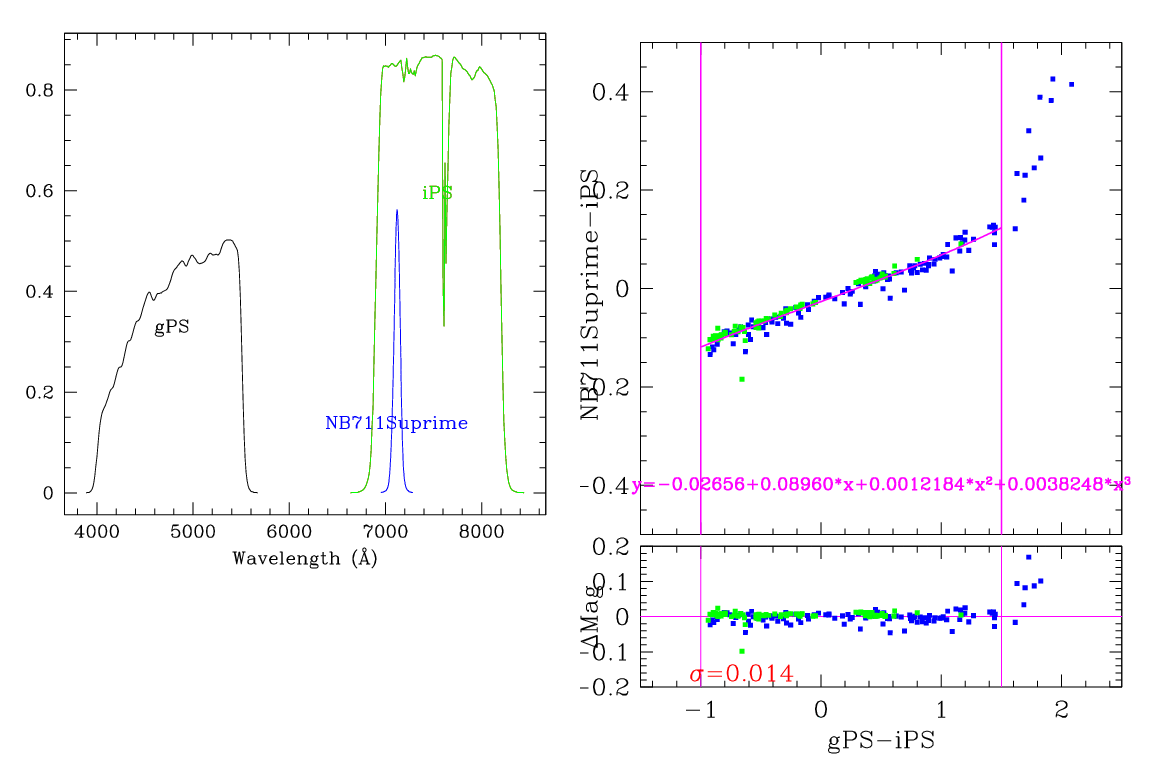 N-B-L816
Transmission Function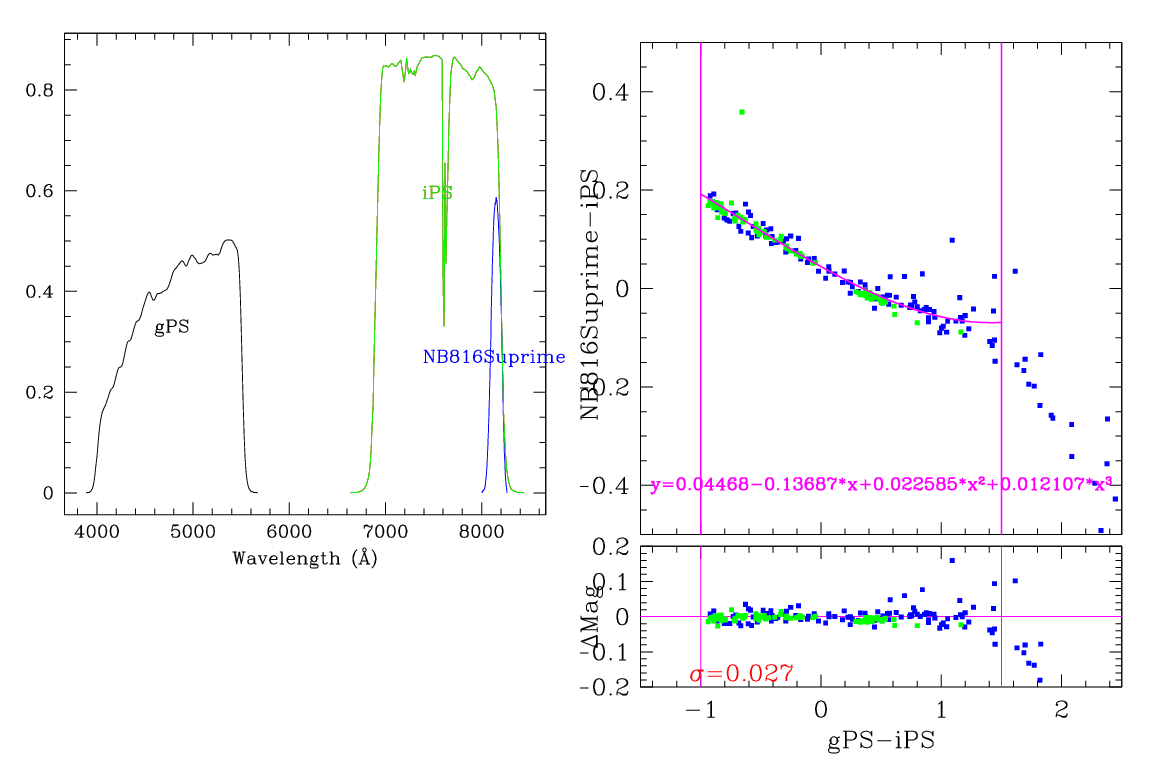 N-B-L921
Transmission Function